From September 26 to 30, 2017, the 20th national society of clinical oncology (CSCA) was held in Xiamen, a beautiful port city, where various oncologists from home and abroad gathered to discuss related academic issues. During the meeting, Professor Ma Jun from Harbin institute of hematology and oncology presided over the meeting. Professor Zhu Jun from Peking University's tumor hospital, Professor Jiang Zefei from 307 hospital affiliated to the academy of military medical sciences, and Dr. Lu Xianping, the president and chief scientific officer of CHIPSCREEN BIOSCIENCES, jointly presented a wonderful special report on the clinical application and research progress of Chidamide. In addition, Professor Zhang Qingyuan from Harbin Medical University's affiliated tumor hospital, as an expert in the fields of lymphoma and breast cancer, commented on the efficacy and safety of Chidamide in treating PTCL, suggesting its prospect of reversing drug resistance in breast cancer treatment.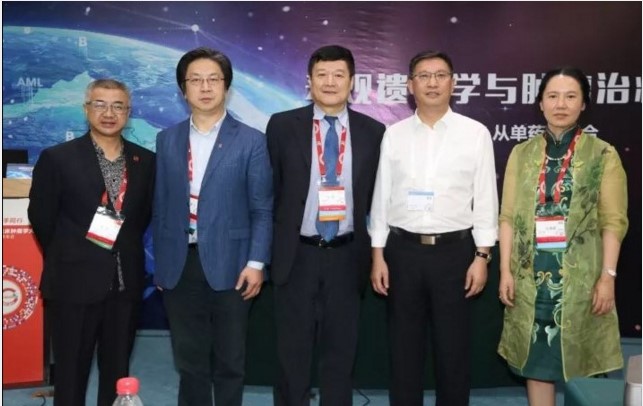 From left: Zhu Jun, Jiang Zefei, Ma Jun, Lu Xianping, Zhang Qingyuan
Based on epigenetics, Dr. Lu Xianping, the chief scientific officer of CHIPSCREEN BIOSCIENCES, introduced the basic research and application prospect of Chidamide in the treatment of blood tumors and solid tumors. Epigenetic regulation refers to the regulation of gene expression through chemical modification instead of changing DNA sequence. Common epigenetic control methods include DNA methylation, histone modification (including acetylation, methylation, histone deacetylation, etc.), non-coding RNA control, etc. Several studies have confirmed that there are several mutations of epigenetic factors in tumor cells. Mutations or abnormal chemical modifications of epigenetic factors can affect transcription, metabolism, immunity, DNA repair, cell cycle and so on. Epigenetic regulation is closely related to many links of tumorigenesis and development. Epigenetics control is as important as targeted treatment of tumor-driven genes in tumor treatment.

He mentioned that many clinical application studies in Chidamide are currently underway. In terms of Chidamide monotherapy, phase II clinical trials of skin T-cell lymphoma (CTCL) have been completed and phase II trials of B cell lymphoma / acute myeloid leukemia (AML) / multiple myeloma (MM) are being initiated. Phase II clinical trial of non-small cell lung cancer, phase III clinical trial of breast cancer and phase III clinical study after PTCL is on the market are still underway. It is expected that the application of Chidamide in various tumor treatments will be further verified and supported by evidence-based medicine so as to benefit more tumor patients.